Kansas Organic & Sustainable Lifestyle Directory
Look in Kansas for:
Find Lifestyle in:
Directory Listings - Page 1: Results 1-20 out of 33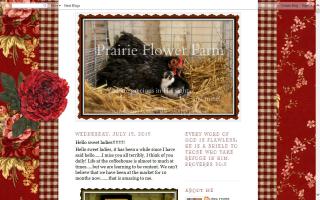 Visit Prairie Flower Farm's Facebook Page

prairieflowerfarm@gmail.com

Categories: Lifestyle; Reading; Recipes; Blogs; Gardening
Region: Kansas
www.prairieflowerfarm.blogspot.com/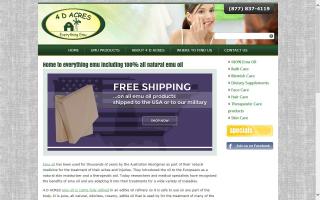 Visit 4 D ACRES Inc.'s Facebook Page

PO Box 1218
Louisburg, KS 66053
(877) 837-4119
(913) 271-1832


4 D ACRES carries 100% pure, all-natural emu oil as well as meat, lotions for skin care, purple emu products, emu egg art, and more.

Categories: Products; Lifestyle; Farms; Cosmetics; Reading; Testimonials; Hair Care; Blogs; Eggs; Body Oils; Dried Meats; Emu; Beauty
Region: Miami County
www.4dacresemuoil.com/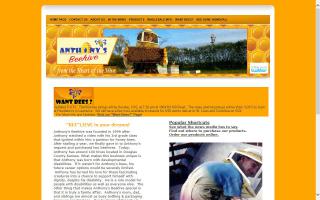 1804 N1100 Rd
Lawrence, KS 66046
(762) 233-4483(BEEHIVE)
info@anthonysbeehive.com


Anthony's Beehive is a family owned business in northeast Kansas founded by a young man with special needs pursuing his passion offering variety natural products from the heart of the hive such as honey straws, honey sticks, beeswax, and lip balm.

Categories: Products; Lifestyle; Online Shopping; Wholesalers; Testimonials; Recipes; Honey; Balms; Sauces
Region: Douglas County
www.anthonysbeehive.com/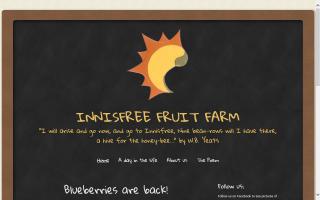 2309 Riley Rd
Ottawa, KS 66067
(785) 242-8313
(785) 248-9145
normanmast@gmail.com


Categories: Lifestyle; Farms; Pick Your Own Farms; Produce Farms; Recipes; Jams & Jellies; Berries; Fruits & Vegetables
Region: Franklin County
www.berrygoodfarm.com/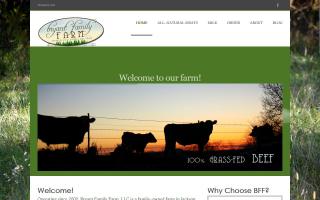 Leavenworth, KS 66048
(913) 682-6811
tom@bryantfamilyfarm.com


We strive to provide Christ-centered service in all areas of our lives and business. We raise beef, chicken, pork, goats, and fresh eggs.

Categories: Products; Lifestyle; Farms; Reading; Blogs; Milk; Free Range Eggs; Grass-Fed Beef; Pasture Raised Pork; Free Range Chicken; Free Range Turkey; Feed & Grain; Starch Farms
Region: Leavenworth County
www.bryantfamilyfarm.com/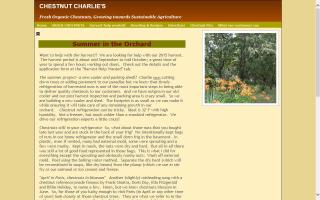 Box 1166
Lawrence, KS 66044
(785) 841-8505
nuts2sell@aol.com


Order fresh chestnuts, find chestnut recipes, learn how to fold a roasted chestnut cone. Come and find what is happening at the chestnut orchard.

Categories: Lifestyle; Farms; Testimonials; Seed & Nut Farms; Recipes
Region: Douglas County
chestnutcharlie.com/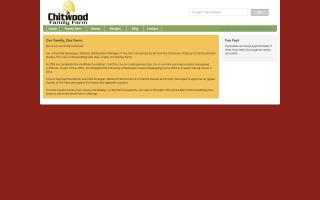 Lane, KS 66042
(913) 738-4585


Categories: Lifestyle; Farms; Reading; Blogs; Honey Farms
Region: Franklin County
www.chitwoodfamilyfarm.com/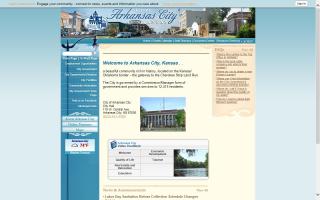 118 W Central Ave
Arkansas City, KS 67005
(620) 441-4400


Categories: Lifestyle; Events; Family Fun; Festivals
Region: Cowley County
www.arkcity.org/index.aspx?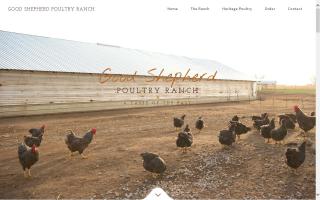 3441 Mustang
Tampa, KS 67483
(785) 227-5149
brahmabrahma@hotmail.com


Categories: Grocers & Markets; Lifestyle; Farms; Meat Farms; Reading; Testimonials; Recipes; Duck; Information; Turkey; Chicken; Mom & Pop's; Free Range Chicken; Free Range Turkey; Geese
Region: Marion County
www.goodshepherdpoultryranch.com/

Independence, KS 67301
indyfarmersmkt@yahoo.com


Categories: Grocers & Markets; Lifestyle; Farmers' Markets; Food & Drink; Family Fun
Region: Montgomery County

Iola, KS 66749


Categories: Grocers & Markets; Lifestyle; Farmers' Markets; Food & Drink; Family Fun
Region: Allen County

Junction City, KS 66441
(785) 349-5541


Categories: Grocers & Markets; Lifestyle; Farmers' Markets; Food & Drink; Family Fun
Region: Geary County

736 Crescent Dr
Hesston, KS 67062
(620) 327-4124
info@kalayaemuestate.com


Kalaya Emu Estates offers pure emu oil products.

Categories: Lifestyle; Farms; Recipes; Skin Care Creams; Pet Accessories; Lotions; Body Oils; Emu
Region: Harvey County
www.kalayaemuestate.com/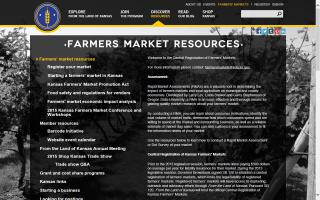 Visit Kansas Farmers Markets' Facebook Page

Whiting, KS 66552
(785) 840-6202
mercedes.taylorpuckett@gmail.com


As of 2014, reported offerings include: baked goods, crafts, eggs, vegetables, honey, jams, plants, prepared foods, and fruits.

Categories: Grocers & Markets; Lifestyle; Farmers' Markets; Reading; Honey; Jams & Jellies; Food & Drink; Eggs; Baked Goods; Information; Arts & Crafts; Prepared Foods; Fruits; Plants & Flowers; Directories; Family Fun; Vegetables
Region: Jackson County
www.ksfarmersmarkets.org/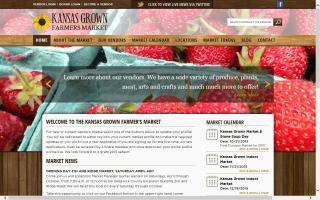 Visit Kansas Grown Farmers Market's Facebook Page

Wichita, KS 67203


Kansas Grown Farmers Markets provide area Kansas producers a means of marketing Kansas grown or produced products. We provide an opportunity for consumers to purchase quality products grown and produced in Kansas.

Categories: Grocers & Markets; Lifestyle; Farmers' Markets; Food & Drink; Family Fun
Region: Sedgwick County
www.kansasgrownfarmersmarket.com/

Visit KCK Greenmarket's Facebook Page

Kansas City, KS 66101
(913) 909-1027


Categories: Grocers & Markets; Lifestyle; Farmers' Markets; Food & Drink; Family Fun
Region: Wyandotte County

La Crosse, KS 67548


Categories: Grocers & Markets; Lifestyle; Farmers' Markets; Food & Drink; Family Fun
Region: Rush County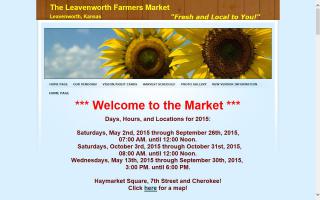 Visit Leavenworth Farmers Market's Facebook Page

Leavenworth, KS 66048
(913) 651-2683
leavenworthfarmersmarket.com


As of 2015, reported offerings include: baked goods, cheese, flowers, eggs, herbs, vegetables, honey, jams, meat, plants, poultry, soap, wine, coffee, and fruits.

Categories: Grocers & Markets; Lifestyle; Farmers' Markets; Soaps; Honey; Poultry; Jams & Jellies; Food & Drink; Eggs; Cheeses; Baked Goods; Coffees; Herbs & Spices; Fruits; Plants & Flowers; Meats; Family Fun; Wines; Vegetables
Region: Leavenworth County
www.leavenworthfarmersmarket.com/

Lebo, KS 66856
mwallace@osprey.net


Categories: Grocers & Markets; Lifestyle; Farmers' Markets; Food & Drink; Family Fun
Region: Coffey County

Leoti, KS 67861
(620) 872-2053
mmirnovak_modoc@yahoo.com


Categories: Grocers & Markets; Lifestyle; Farmers' Markets; Food & Drink; Family Fun
Region: Wichita County